Should I replace Amalgam Fillings?
by
Dr. Harmanpreet Kaur
| February 1, 2018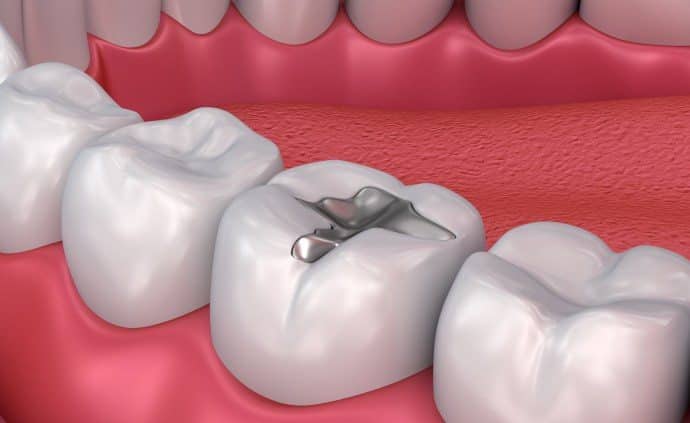 Not too long ago, amalgam was the material of choice for dentists when placing fillings. Amalgam fillings, when properly done, were inexpensive, easy to place and long-lasting. As dentistry has evolved, however, the disadvantages of amalgam have become more apparent. Apart from a lack of visual appeal, one of the main disadvantages of amalgam is that, traditionally, it cannot be chemically bonded to tooth structure and is retained in the tooth by way of physical undercuts. Additionally, amalgam expands and contracts and can cause cracks and fractures in the tooth as well as in the filling itself. Concern has also been raised about the mercury content in amalgam.
Given the above considerations, the question arises as to whether your amalgam fillings should be replaced. Dr Harmanpreet Kaur D.D.S. recommends replacing amalgam fillings, if there are signs of decay around the filling, chipping or cracking or poorly adapted margins. You may also consider replacing amalgam fillings purely for aesthetic reasons.
Alternatives to Amalgam Fillings
There are two different alternatives to amalgam fillings: composite fillings (made of resin) and CEREC fillings (made of porcelain).
Composite fillings:
Composite fillings are a resin-based material made up of a mixture of powdered glass and plastic. They are great for filling smaller cavities and can be matched to the natural color of your tooth so are a good option where aesthetics is a key concern such as for front teeth. A composite filling can be placed in just one appointment and is a more affordable option to CEREC fillings.
CEREC porcelain fillings:
For replacing larger fillings, CEREC porcelain is a superior material. It is durable, is aesthetically appealing and enjoys a success rate of at least 90 percent after 10 years. CEREC fillings are natural looking, strong and biocompatible and generally last longer than other types of filling materials.
Dr. Harmanpreet Kaur will discuss with you the differences between filling options and depending on your particular case might recommend one over the other. Call Dr. Harmanpreet Kaur's dental office in North Plainfield NJ at 908-756–6623 to set an appointment today! We are the dentist in Green Brook Township, Middlesex, Bound Brook, Piscataway, Dunellen and North Plainfield NJ. We are open on Saturdays and late evenings on weekdays. Check out dentaldesignernj.com for more details and send a request online for your dental appointment. Follow us on facebook.com/dentaldesignernj and you get a chance to win gift card for fifty dollars.
Broken or Missing Teeth? Your options to replace them