Emergency dentist near you
Phone: 908-756-6623
Please contact us ASAP.
Your dentist should be the first person you call if you have a dental emergency. We are committed to helping you in emergencies and have set aside time for emergency procedures. Our team at Dental designer will try to accommodate any last minute or walk-in appointment requests. We are also open on Saturdays and late weekday evenings in case of any emergencies.
What is a dental emergency?
Fixing a chipped tooth, re-cementing a crown that is not causing pain or composite fillings used to repair a tooth are not dental emergencies. Typically, such problems can be dealt with during your dentist's regular office hours.
If you are not sure whether or not you are having a true dental emergency, answer the following questions:
Is your mouth bleeding?
Are you having severe pain?
Is your broken tooth causing pain?
Do you have any loose teeth?
Have you been hit in the face or mouth?
Do you have any swelling in the mouth or facial area?
Do you have any bulges, swelling or knots on your gums?
If you answered yes to any of these questions, you might be having a dental emergency and should call your dentist immediately. It's important to describe to your dentist exactly what has happened and what you are feeling.
How to pay during emergency if you don't have insurance?
We accept a variety of dental insurances, payment choices and financing options that fit your wallet.
Cash
Personal Checks
Major Credit Cards (Visa®, MasterCard®, American Express®, Discover®)
Third-Party Credit Cards and Financing Options e.g. CareCredit
Payment Policy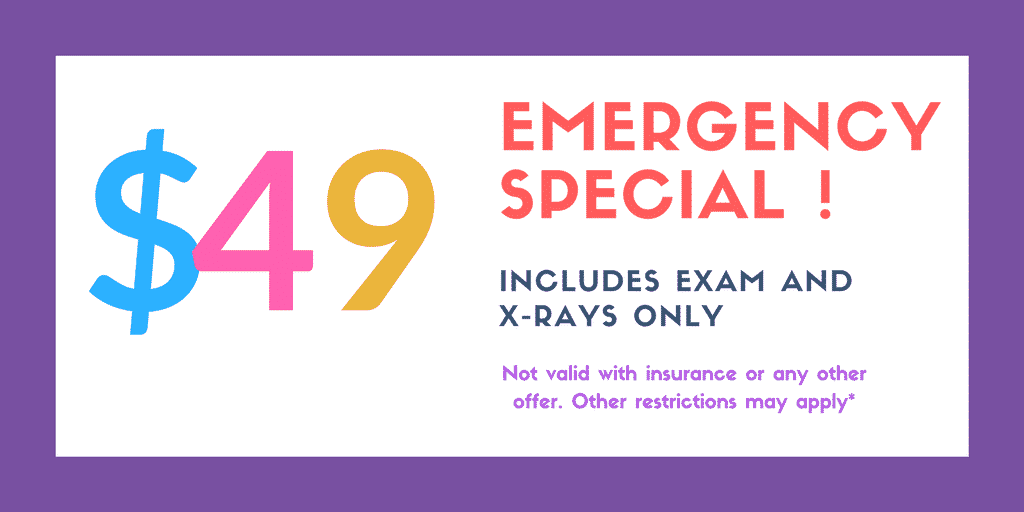 OFFICE HOURS
Monday : 9:30am– 7pm
Wednesday : 9:30am– 7pm
Friday : 9:30am– 7pm
Saturday (alternate) : 9:30am– 3pm
Convenient weeknight and weekend appointments available.