What is a dental implant?
by
Dr. Harmanpreet Kaur
| October 2, 2018
A dental implant is an artificial replacement for a tooth root for a missing tooth and is usually made from titanium. The important function of any implant is to achieve close contact with the surrounding bone. Over time growth of the bone onto the implant surface enhances the stability of the implant.
Dental Implant Suitability?
Dental implants are suitable for adults with good oral and general health. Some dentists will decline to place implants if you are a heavy smoker and cannot give up altogether. However, each implant case is different and if you do have any health problems such as heart disease or diabetes,  then speak to your dentist Dr. Harmanpreet Kaur before starting any treatment. It is only in some circumstances that health problems prevent the use of dental implants altogether.
How to know, if you are suitable for implants?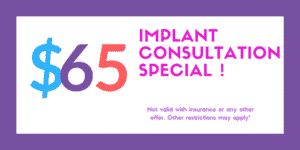 At your initial consultation, Dr Harmanpreet Kaur D.D.S will check if it is feasible to provide you an implant treatment. You will be expected to provide a detailed medical history and there will be a complete examination of your mouth and remaining teeth to discover the nature and extent of any existing dental problems. Oral X-rays will be taken and models of the teeth will be prepared. X-rays and models are used to determine the missing tooth gap and volume of bone that is available for placing an implant.
At this first appointment, you will be provided a treatment plan is required to stabilize any gum- or tooth-related problems. Establishing good basic dental health is a key stage in any treatment plan. Habits such as heavy drinking or smoking can decrease the long-term health of gum and bone and therefore limit your chances of receiving a dental implant.
About Dr Harmanpreet Kaur and Dental Designer.
Passionate about the importance of continuing education, Dr. Kaur has completed extensive advanced training in cosmetics, oral surgery and anesthesia.  She is currently pursuing Dental Implant Program at Rutgers School of Dental Medicine, NJ. She is a member of the American Academy of Implant Dentistry
If you want to learn if Dental Implant is the right treatment for your missing tooth, make sure to make an consultation appointment today at Dental Designer. Located in North Plainfield on Route 22W, we are a dental office that provides comprehensive dental treatment to the residents of Plainfield, Greenbrook, Dunellen, Boundbrook and Watchung NJ.
Surprising Truths about Root Canal Treatment
What are my options to replace missing teeth?